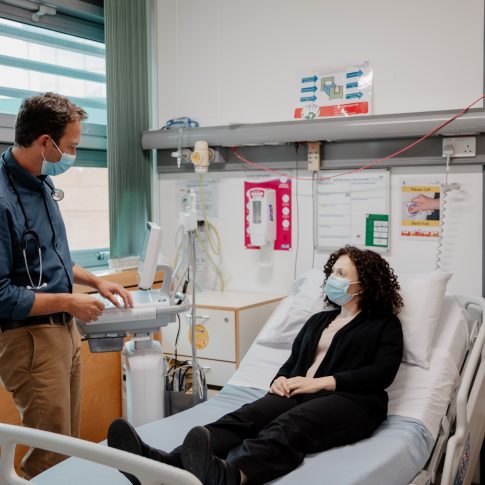 Manchester Clinical Research Facility (CRF) is the largest and most comprehensive NIHR CRF in the UK.
We are dedicated to enabling cutting-edge clinical research across a diverse range of clinical areas, offering world-class facilities and a commitment to public and patient involvement.
Our Manchester CRF approach to clinical research facilities provides dedicated buildings, equipment, and laboratories for experimental research. We are successfully driving early phase research forward, making a valuable contribution to the health of our local population and beyond.
We work with patients, hospitals, universities and industry to take the best new ideas from cutting-edge science to create treatments and tests to treat illness and help people to live better lives.
We operate in six world-class facilities based at NHS teaching hospitals across Greater Manchester (GM):
Our approach consolidates assets across our CRFs, and explores novel ways to drive efficiencies and maximise the impact of our research across the city region to deliver more experimental medicine studies and increase accessibility of research for local people of all ages ethnicities and backgrounds.
We provide 24-hour, 7-day inpatient and outpatient research services, including those for children and infants, with more than 50 research beds and over 20 outpatient consultation rooms across GM.
Our CRFs provide a safe environment where research interventions and treatments for conditions including cancer, rare genetic disorders and respiratory conditions, can take place right in the heart of a hospital campus. Collaboration across GM enables our researchers to easily access the specialist equipment in the dedicated space required to deliver a diverse range of clinical studies.
Our Aims and ambition
We were founded in 2017 with the ambition to become a world class example of an integrated Clinical Research Facility, and enhance the translation of scientific advances through experimental medicine in collaboration with our deliver partners, and patients and participants of all ages and backgrounds across Greater Manchester.
Our strategic aims are: 
Grow experimental medicine across Greater Manchester – opportunities to establish outreach services in our diverse community
Increase world-class research across Greater Manchester – specifically interventional Phase I and Phase II trials
Increase engagement with the life sciences industry
Increase training in experimental medicine
Our role in the GM Research and Innovation community
We are proud to be a key partner within the Greater Manchester research and innovation (R&I) community, one of the largest R&I infrastructures in the country.
We are embedded within Health Innovation Manchester (HInM), the system that brings together the Greater Manchester City Region's civic authorities, industry, universities and NHS organisations to work collaborative on improving the lives of its 2.8 million population.
We provide essential early translational and experimental medicine capability, responding to the developing needs of the city-region.
Our alignment with our local partners ensures our strategic plans and delivery performance efficiently meet the needs of our citizens, and translational science across the city.
We are hosted by Manchester University NHS Foundation Trust, one of the largest acute Trusts in the UK.
Manchester CRF Leadership
The Manchester CRF leadership team comprises internationally recognised clinicians and scientists across Greater Manchester, supported by a multi-discipline team of research-support experts.