The NIHR Manchester Clinical Research Facility (MCRF) played a key role in the local and national  COVID-19 pandemic research response, hosting early phase trials of acute COVID-19 studies and supporting delivery of a range of NIHR Urgent Public Health (UPH) trials, consistently exceeding recruitment targets, and was a top three national recruiting sites for several of them.
In addition to these clinical trials, MCRF was asked to facilitate the fast-track opening and provide vital support to the Public Health England (PHE) ESCAPE (Enhanced Seroprevalence for COVID-19 Antibodies) study which aimed to better understand the spread of coronavirus by monitoring the development of and changes in antibodies linked to COVID-19.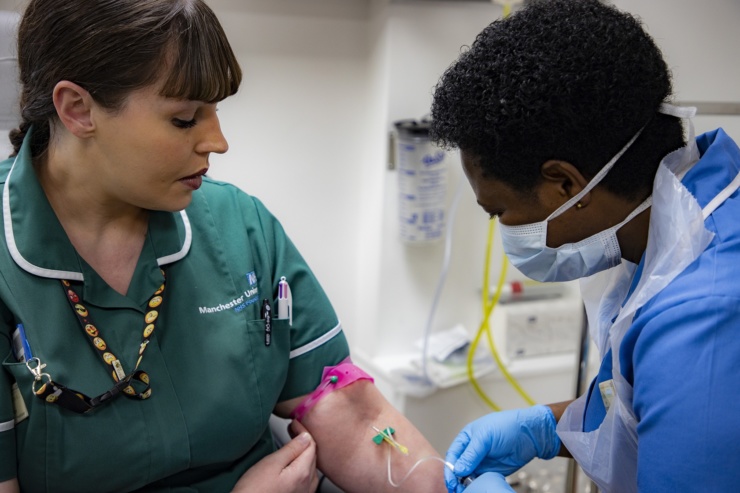 The Manchester CRFs at Manchester Royal Infirmary and Wythenshawe Hospital (both part of Manchester University NHS Foundation Trust) where the only NHS/NIHR sites in the country to participate in the study, working in collaboration with PHE Colindale, PHE Porton Down and PHE Manchester.
Utilising dedicated research staff including Principal Investigators, nurses and laboratory support, along with protected research space, and working together with NIHR and clinical colleagues, the study opened in March 2020, commencing recruitment just 48 hours after the approach to participate. By mid-April more than 1,000 participants had been recruited, with a final total of 1,200 NHS staff recruited through MCRF
Each study participant was required to provide a blood sample and complete a questionnaire. This was initially repeated for six months at MCRF to enable PHE to measure the proportion of participants exposed to COVID-19 and how quickly the virus spread.
A subgroup with evidence of antibody response (i.e. prior SARS-CoV2 infection) had additional samples taken to look for T cell immunity. With the support of MCRF, these participants have now been rolled over to an extension of ESCAPE, looking at vaccine antibodies rather than COVID -19 exposure antibodies.
As the national platform has evolved, we have transitioned many of these participants recruits to the national UPH1a SIREN study (Sarscov2 Immunity and REinfection EvaluatioN) – initially set-up and delivered by MCRF, including the use of clinical research space and staff.
The support provided by the CRF enabled ESCPAE to be delivered rapidly and generate important results and understanding that has shaped national policy and the pandemic response.
Samples collected helped validate different antibody testing kits nationally, and the study showed a decline in antibody responses over time in previously infected people using the most common serology tests. The study also identified antibody tests that showed more persistent humoral immunity. In the subgroup with positive antibody responses, T cell responses were shown to persist in the face of declining humoral responses, indicating persistence of immune memory.
These findings, co-authored by Manchester CRF directors Dr Alex Horsley and Dr Ben Parker, were published in high-impact journals and reported in national media including the BBC and The Guardian.