Manchester CRF played a vital role during the COVID-19 pandemic; supporting delivery of trials evaluating treatments for acute illness, delivering COVID-19 vaccination trials, and running post-COVID-19 studies.
Our crucial work included:
COVID-19 risk assessments and the introduction of robust COVID-19 procedures ensured that activity was able to continue on 146 pre-COVID-19 essential research studies
Supporting more than 20 Urgent Public Health (UPH) priority COVID-19 research studies, involving more than 4000 people, including both children and adults
Support for COVID-19 research studies including Principal Investigators (PI), medical cover, nursing (including advanced clinical practitioners), laboratory, and administrative.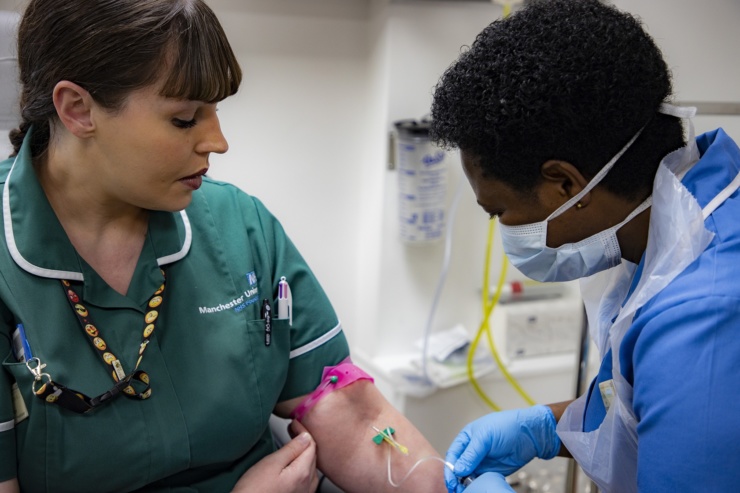 COVID-19 research studies taking place and supported by Manchester CRF
COVID Warrior (measuring COVID-19 antibodies in healthy children)
CIRCO (collecting and processing samples from admitted positive patients)
Synairgen (drug delivery)
What's the Story? (assessing the presence of antibodies against vaccine-preventable diseases)
CRF staff including nurses and research practioners helped deliver Public Health England's 'sKID' study to more than 600 school children and teachers in 10 primary schools across GM
Delivery of Public Health England's ESCAPE study observing changes in antibodies in healthcare staff. This was the only NHS site in the country to take part in the study with more than 1,200 staff participating.