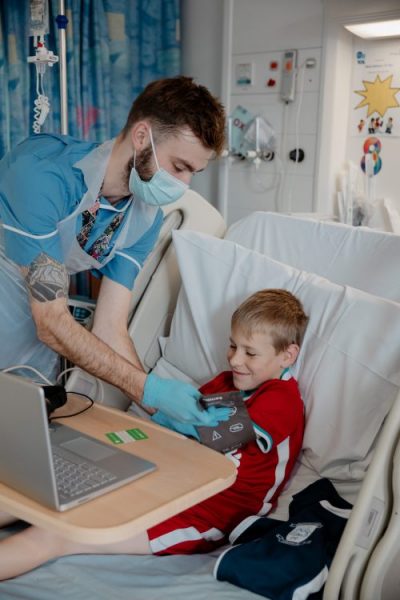 We are a team of doctors, nurses and other research staff helping find out more information about new treatments and medicines for children up to the age of 19 years old.
In the past children and young people did not take part in this kind of research very often.
Medicines were tested with adults and then the results were used to make decisions about children.
This meant doctors and nurses did not have a lot of information about medicine for children.
Our doctors and nurses now carry out more research in medicines for children in our facility.
We want to help poorly children feel better so they can play more and see their friends at school.
Children who take part in our research are called participants.
Many of our participants are children who have been poorly since they were born or poorly because of their genes.
Taking part in our research is normally like going to hospital for treatment.
At the beginning we will ask you and your family some questions to find out about your health.
We have made sure our facility is bright and colourful
The questions might be about medicine that you take or any allergies you have.
Sometimes we might need to do a few tests, like measuring your height. We may also need to collect samples of blood and wee.
By taking part in research you could help other poorly children in the future.
We always make sure children are comfortable during our research.
You can speak to a doctor or nurse at any time during your stay.
Websites such as www.healthtalkonline.org have stories from other children and parents who have taken part in clinical trials.
Our unit has 10 beds; four in the big ward area and two in single rooms.
Each bed has a pull down bed at the side for your mum or dad to sleep in if you have to stay in overnight. We also have a room for appointments during the day.
We want to make you as comfortable as possible during your stay, so we have made our unit bright and colourful, along with areas for you and your family to relax.
To make sure you do not get bored we have lots of toys and games, along with TVs, DVD players, and games consoles.