The world's first participant in a new COVID-19 trial taking place at Manchester University NHS Foundation Trust (MFT), is part of research that may provide important protection for people with a weakened immune system.
Vaccines work by inducing a person's immune system to produce antibodies that inhibit or 'neutralise' the virus. In vulnerable patients (with compromised immunity), a COVID-19 vaccination may not generate enough immune response, leaving them still vulnerable to severe infection and hospitalisation. Monoclonal antibodies (man-made protein molecules that act like natural antibodies to fight infections), can provide protection against infection in these vulnerable patients by supplementing their natural immune response.
The Phase I/III SUPERNOVA* trial, sponsored by AstraZeneca, is investigating a drug (AZD5156) that combines two long-acting monoclonal antibodies, that specifically target the COVID-19 virus.
Studies in the lab show that the antibody combination works against all currently known Coronavirus variants, including those that other COVID-19 monoclonal antibodies have reduced ability to neutralise.
SUPERNOVA will evaluate the safety and neutralising activity for the prevention of COVID-19 in adults and children 12 years of age or older with conditions such as cancer, that cause immune impairment.
Mehrdad, Research Archivist and Information Assistant, Wythenshawe Hospital, part of MFT, is the first person to take part in the SUPERNOVA study.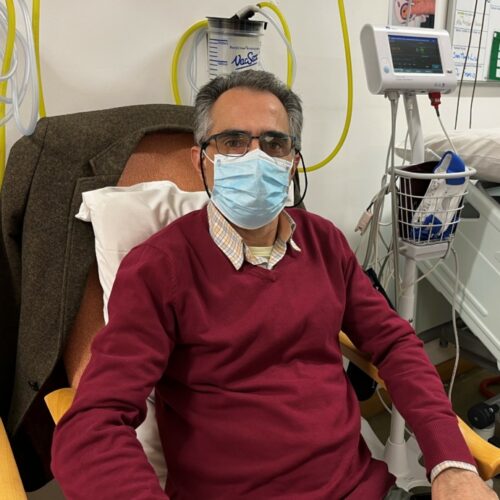 Mehrdad, 53, from South Manchester, said: "When I heard about this study, I wanted to take part because I thought it could be beneficial to so many people, not only in the UK, but around the world.
"I have had COVID-19 three times and my wife who has had COVID-19 four times was hospitalised the third time she caught it.
"Although I am fine, my wife still experiences shortness of breath, so we know first-hand some of the issues of long COVID.
"This research covers all types of people, with different backgrounds, and different ethnicities. I want to encourage others to come forward to be part of research, because it benefits the whole community."
About this research
In Manchester, SUPERNOVA is being delivered at the National Institute for Health and Care Research (NIHR) Manchester Clinical Research Facility (CRF) at Manchester Royal Infirmary and is sponsored by AstraZeneca.
There are two parts of the study: Phase I and Phase III. Phase I includes healthy people and Phase III will include people with conditions that lead to impaired immune systems.
As SUPERNOVA is a double-blind study both the participants and study team will not know if they have received the study drug AZD5156 or a placebo, until the study is completed.
Dr Alison Uriel, Specialty Doctor in Infectious Diseases, Research Lead in Infectious Diseases and Tropical Medicine, North Manchester General Hospital, who is leading the study at MFT, said:
"Although vaccines have proven to be the best defence available against COVID-19, continued research into how we can best protect people with conditions that make them more vulnerable to the virus is vital.
"We hope to show that proactive therapy with long-acting antibodies that have been shown to neutralise the virus will provide an additional option to help minimise individual risk, reduce outbreaks and control the spread of Coronavirus.
"We are incredibly grateful to the volunteers, like Mehrdad, who continue to be such an important part of the research, to help us build upon the science of vaccines."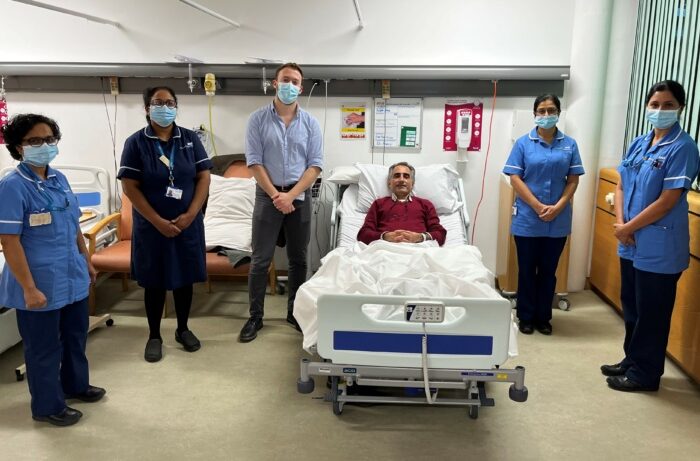 The research team involved with the SUPERNOVA study. L-R: Ginu Varghese, Deputy Nurse Manager, Manchester Clinical Research Facility; Manju Juby, Nurse Manager, MFT Vaccine Research Team; Francis Jasiewicz, Clinical Trials Fellow; Mehrdad; Pavenjit Nandhra, Senior Clinical Research Nurse, MFT Vaccine Research Team; Smitha Joseph, Senior Clinical Research Nurse, Manchester Clinical Research Facility at Manchester Royal Infirmary
The first phase of the trial is being conducted at two sites in the UK. Researchers are looking for healthy volunteers to take part in this clinical trial, who fit the below criteria.
Aged 18 to 55 years
No COVID-19 vaccine in the past three months
No COVID-19 infection in the past six months, as confirmed by a test
If you're interested in taking part, please email

vaccine.trials@mft.nhs.uk

.
*SUPERNOVA: "A Phase I/III randomized, double-blind study to evaluate the safety and neutralizing activity of AZD5156 for pre-exposure prophylaxis of COVID-19 in participants with conditions causing immune impairment."